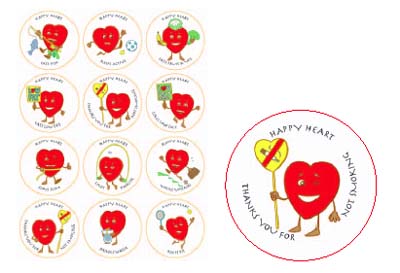 HAPPY HEART STICKERS - stickers
Twelve delightful stickers showing healthy lifestyle choices can give you a Happy Heart. The messages include: eat lots of fruit & veg, drink plenty of water, eat foods low in fat and salt, eat oily fish, take plenty of exercise, walk up stairs, keep active, stay slim, and don't smoke.


Click on the pic to change the image size
See lots more HAPPY HEART & GET FIT resources here.
____________________
Code: 331
Size: 45mm
Items per pack: 60
Price (per pack): £3.40 exc.VAT (£4.08 incl.VAT)