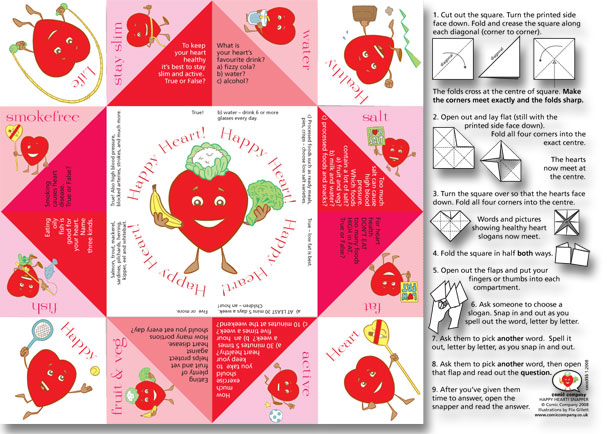 HAPPY HEART SNAPPER - snappers
Click on the pic to change the image size
What do you call them? We call them "snappers", but you may remember them as "fortune-tellers", "cootie-catchers" or even "nose-pinchers". A great cut-out folding quiz game - an ever-popular format put to great use to promote healthy heart know-how. Questions focus on eating lots of fruit & veg, drinking plenty of water, eating foods low in fat and salt, eating oily fish, taking plenty of exercise, walking up stairs, keeping active, and not smoking.

Click on the pic to change the image size
See lots more HAPPY HEART & GET FIT resources here.
____________________
Code: 355
Size: A4 with cutaway folding instructions
Items per pack: 50
Price (per pack): £5.95