Eatwell Guide Food Cards / Top Trumps Game - code 629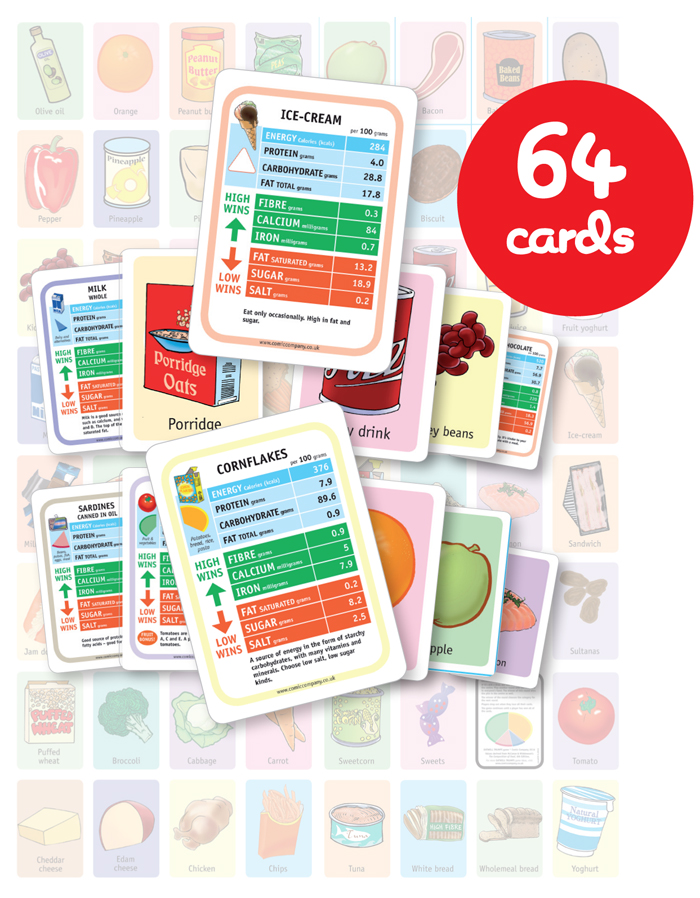 NEW!

code 629 - NEW EATWELL GUIDE FOOD CARDS / TRUMPS GAME - code 629 - cards



Our Food Cards have now been updated (May 2016) to show the appropriate NEW EATWELL GUIDE segments.


Now fully integrated with the new Eatwell Guide, the cards show the same range of foods as before, with detailed dietary information.


They can be used as really useful food illustrations, e.g. on an EATWELL GUIDE FLOORGAME or TABLETOP GAME, or as a terrific TRUMPS-type card game to practice and extend detailed knowledge of key nutrients.

Our bestselling EATWELL FOOD CARDS use the well-known trumps card format to promote understanding of the nutrients in everyday foods, food nutrition labels, and a healthy balanced diet.

64 playing cards each feature a different food. On the front is a BIG colourful pic of the food. The back shows nutrition information in the form of a food label.

Also a great EATWELL TRUMPS GAME for 2 or more players or teams - can be used as a pack or split up and used between groups.

Pitch food against food by comparing their nutritional values per 100grams. For values listed in Red (Salt, Saturated Fat and Sugar), the food with the LOWEST value wins. For the Greens (Fibre, Calcium and Iron), HIGHEST wins.

The more you learn about what's in foods and how to read food labels the better your chances at winning - and staying healthy!

Click here to view all our EATWELL FLOOR GAMES!

Code: 629
Size: A7
Items per pack: 64
Price (per pack): £5.95 exc.VAT (£7.14 incl.VAT)